Hey Everyone! Welcome the "Learning Centers" Gallery. The Main Learning Centers that I incorporate into my class are: Discovery/ Science, Music/ Movement, Dramatic Play, Art, and special activities with Math and Language.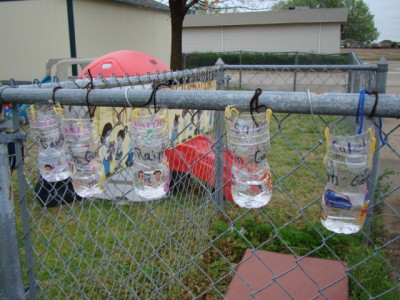 Homemade Rain Gauges
Also during our theme on "Spring", we made special Homemade Rain Gauges from water bottles! Simply cut the tops (up to 2 1/2 inches down) off the bottles, turn them upside down for a funnel, mark out the inches ont he side of the bottle and set them out to collect rain! We were lucky enough to do this during a week when we in Dallas got TONS of rain- On the 2nd day (pictured) we had collected 2 1/2 inches and by the end of the week we had gotten so much rain that they were overflowing!!! The kids LOVED this project so much!